Send Photos From Your Phone
Directly To Friends & Family
Send Photos From Your Phone Directly To Friends & Family
8″ | 10″ | 14″
Frames Available
8″ | 10″ | 14″ Frames Avaliable
The PhotoShare Friends and Family Smart Frame by Simply Smart Home is simply the best way to enjoy your favorite photos with family and friends. With the free PhotoShare Frame app (available for iOS and Android), up to 50 photos at a time may be sent to up to or more PhotoShare Frames at once, making it a snap to share your memories with your entire network of family and friends.
For added flexibility, photos may also be sent through email or from your linked Facebook account.
Share life as it happens. Send playground pics of the kids directly to Grandma's frame, send wedding photos to family members' Frames from across the country or send party photos to friends' frames from the event! it's fun, easy and a great way to keep your memories alive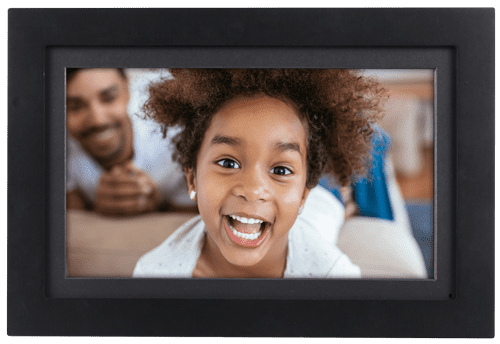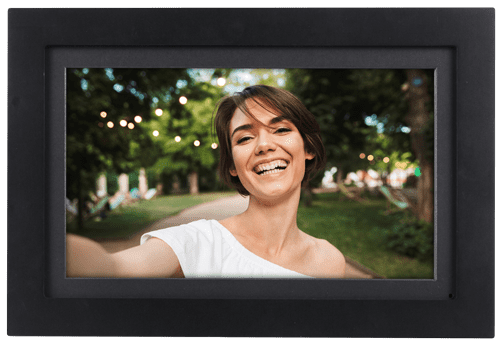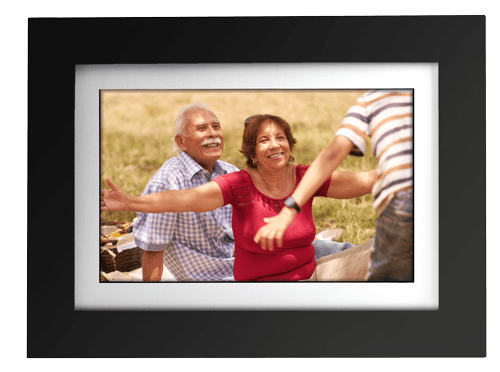 Instantly and securely send photos from phone to frame with the free PhotoShare App. Select a frame, choose the photos you love, and Send!
WiFi smart frame with high-definition touchscreen display brings photos to life with striking color and brilliance
Share your frame ID with all your friends and family so they can send you photos anytime, from anywhere
Set-up so easy, anyone can do it! Simply plug in your frame, connect to wifi, and download the app to begin sharing and enjoying your favorite memories.
Send photos to friends and family in two taps with the free PhotoShare Frame App (available for both iOS and Android).
Beautiful wood frame fits perfectly with your home décor. Includes black and white mattes for 3 home décor styles in one! Customizable mattes to match your personal style.
Many ways to share photos! App, Email, from your PC, Facebook link, Google Photos and more.
Simply Smart Home, Brookstone and Disney frames all use PhotoShare technology, so no matter which brand you love, you'll be able to stay connected with loved ones, near and far!
Backed by our 100% satisfaction guarantee and our 1-year limited warranty.
No strings attached. No monthly subscription or hidden fees, ever!
The Smartest Gift you will ever give!
"My fiancé and I purchased this as a gift for his family for Christmas and they absolutely love it. It is so easy to use and the whole family downloaded the app. for sharing. We had fun uploading pictures to the frame and were able to view and accept photos right away. I would definitely recommend this product."

Love it! - 2 years ago

Christina E
"The Simply Smart Photo Share Frame is truly a great product! This is an awesome way for several family members to share pictures with parents or grandparents. Easy set up and very easy to use. I love that we can all share photos to the same frame for my dad."

Wow! So Easy!!

jenni27 4 months ago
"I am a grandmother of 6 and this frame is my absolute favorite thing in my home!! I don't get to see my babies as much as I'd like so my kids upload pictures of their events and I get to view them whenever I like! It really makes a difference and makes me not feel like I am constantly missing out. It is very user friendly as well!"

Love getting pics of my family!!

Keho·5 months ago
"I ended up purchasing 2 more for family. We have all been sharing photos of our crafts since we haven't been able to get out much. The quality of the photos is excellent and the use of the app has been very easy for us. Love that we can share memories with each other this way instead of our phones."

We love this!

Keho 5 months ago
"I really love this PhotoShare frame, its so easy to use, has very clear pictures and is Great quality. I also love the fact I can send pictures of my family from my camera to it and see my family especially since we have the stay at home from Covid. It would make a great gift to anyone who loves to make pictures, I just love it!"

Great Product!

ABGregory55 5 months ago
"PhotoShare Friends and Family Smart Frame is such a cool product. We share photos to our daughter that is out of state. We email the photos to the frame email address and she instantly has the photos we shared with her. We enjoy that we can share our live with her even though she is far from us."

Love It!

Veronica74·5 months ago
"I love this frame. It was incredibly easy to set up and to add pics. The best part is being able to receive pics from friends and family. It has been so nice being able to feel connected with my loved ones."

I love it!

Mich 5 months ago
"This frame has been the center of our fun since we received it last week. It was so easy to hook up to our WiFi and to transfer our photos from our phone. Friends and family are learning how to send us pictures and it has excited them so much they are purchasing a frame themselves soon. It certainly has given Us all something to do and has added some fun to our quarantine all the way around! Love to look at it each day. So many smiles."

Lots of Fun!!

Cindy2 5 months ago
"I received this product and immediately set it up to my wifi . Love the idea my family can put pictures from anywhere !! Beautiful frame to accent all my memory pictures. Will definitely be recommending this product to everyone !! Very easy to set up and get started."

Loving memories

Dee68 5 months ago